With UV light, ionizer, advanced filters and interior cleaning up to 61m²
Application area (m²)

18 – 31 m², 25 – 43 m², 35 – 61 m²
Air Filters

Activated Carbon Filter, HEPA, Pre-filter
Sound pressure level (high/ med/low) (dB(A))

58/45/26, 58/47/27, 65/51/28
Dimensions (WxDxH)

347x175x535, 410x210x628, 460x230x710
Photocatalyst filter φίλτρο
Deodorizing filter that eliminates unpleasant odors.
Auto mode
By selecting this function, the cleaner automatically selects the best air quality control speed.
Carrier warranty
Carrier invented modern air-conditioning in 1902. Since then we are continuously innovating our products to provide you excellent efficiency and energy savings.
Filter replacement alert
A special indication on the device's control panel notifies you when it is time to replace the filter.
HEPA H13 filter
The powerful H13 class High-Efficiency Particulate Air filter traps more than 99.95% of airborne particles, such as germs and allergens, ensuring a high quality atmosphere in your indoor space.
Air quality light indicator
The device recognizes air quality and its light indicator changes color, depending on the level of air purity: Excellent (Blue), Good (Green), Moderate (Purple), Poor (Red)
Operation timer
Set the device to operate for 1, 2, 4 or 8 hours, for the best planning of the air purification of your space.
Pre-Filter
The pre-filter withholds the largest dust particles suspending in the air, removing them from the air flow before they enter the air-conditioning unit. It covers the air intake and thus helps keeping the unit and the coil clean from dirt and debris, providing better air quality. The pre-filter can be removed and cleaned with soap-water without losing its effectiveness.
Note
The manufacturer reserves the right to change the characteristics of the products, the elements and the images, without prior notice.
UV light
Light has an amazing power; it gives life! It is not widely known, but light can also clean the air we breathe.
But how can light work against airborne germs and improve the air quality of your home?
The operation of UV light air-purifiers is quite simple. As air passes through the device, it passes through ultraviolet lamps' radiation. This radiation decomposes the molecular structure of the pollutants. In essence, UV lamps can alter the DNA of microorganisms and diactivate or eliminate them entirely.
Ionizer
Creates a healthy climate as it rejuvenates the air with negatively charged ions. Removes pollen and dust while neutralizing bacteria and fights unpleasant odors such as cigarette smoke, for a cleaner and healthier indoor environment.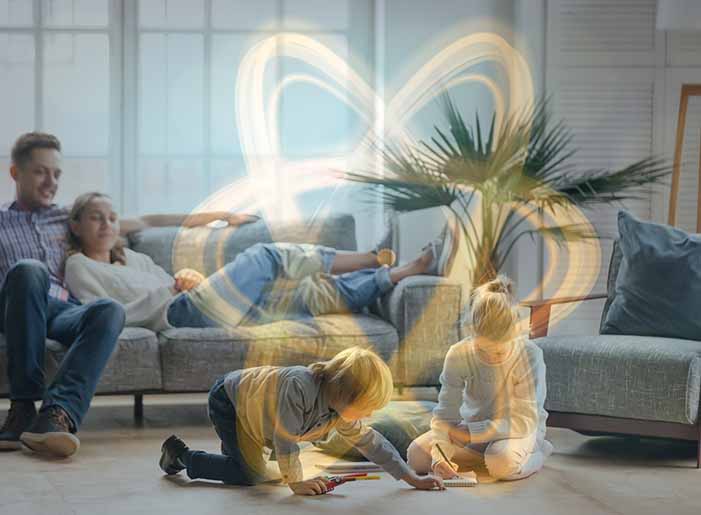 Activated Carbon Filter
Up to 10 times more effective than traditional carbon filters in removing unpleasant odors, including cigarette scent. Also removes harmful gases such as formaldehyde and benzene, reducing the adverse effects of passive smoking.
| | | | |
| --- | --- | --- | --- |
| | CAFN026LC2 | CAFN036LC2 | CAFN051LC2 |
| Sound pressure level (high/ med/low) (dB(A)) | 58/45/26 | 58/47/27 | 65/51/28 |
| Dimensions (WxDxH) | 347x175x535 | 410x210x628 | 460x230x710 |
| UV lamps | 1 | 1 | 2 |
| Nominal Capacity | 23W | 33W | 66W |
| Motor type | DC | DC | DC |
| Fan speed | 1-2-3-4 | 1-2-3-4 | 1-2-3-4 |
| Air quality indication | Digital representation | Digital representation | Digital representation |
| Voltage/Hz/Ph | 220V / 50 -60Hz | 220V / 50 -60Hz | 220V / 50 -60Hz |
| Weight (Kg) | 5,2 | 7 | 10 |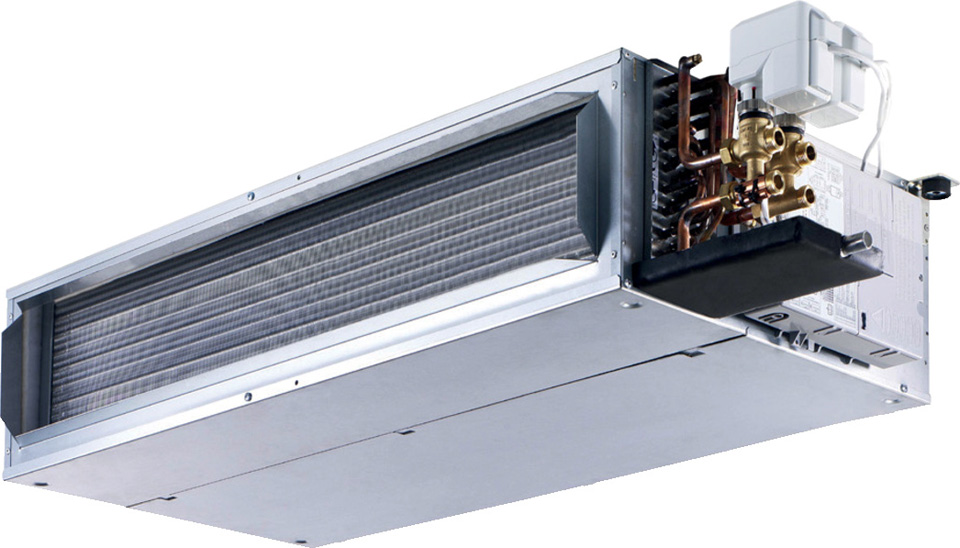 Nominal cooling capacities from 0,6 to 12 kW and heating from 0,8 to 17 kW