Small and efficient. Available in 2 types, removes up to 12 liters of water per day.
Moisture removal (L/day)

10, 12
Air Filters

Pre-filter
Refrigerant

R290
Water tank volume (L)

2,1
Auto defrost
Evaporator protection system against ice formation.
Water level indicator
The device features a distinct water level indicator on the front of the device, so that the user is always aware of how much water exists in the tank.
Smart function
The dehumidifier automatically selects the desired humidity levels, between 45% – 55%, always depending on room temperature. It ensures that the proper humidity content is maintained continuously, delivering excellent air quality with maximum energy savings.
Large Relative Humidity Adjustment Range
With a relative humidity (% RH) adjustment range from 35% to 85%, the ideal conditions are ensured, no matter how small or large the dehumidification need of the area is.
Low noise level
Carrier's new generation of ES compressors, featuring a brand new design to their centrifugal fans, achieve significantly lower vibrations.
Carrier Warranty
Carrier invented modern air-conditioning in 1902. Since then we are continuously innovating our products to provide you excellent efficiency and energy savings.
Automatic Restart
After a potential power failure, the unit will automatically restart, keeping all previous settings.
Pre-Filter
The pre-filter withholds the largest dust particles suspending in the air, removing them from the air flow before they enter the air-conditioning unit. It covers the air intake and thus helps keeping the unit and the coil clean from dirt and debris, providing better air quality. The pre-filter can be removed and cleaned with soap-water without losing its effectiveness.
Note
The manufacturer reserves the right to change the characteristics of the products, the elements and the images, without prior notice.
| | | |
| --- | --- | --- |
| | | CDN-10Q7 |
| Refrigerant | R290 | R290 |
| Water tank volume (L) | 2,1 | 2,1 |
| Air Flow | 118 | 107 |
| Sound pressure level (high/ med/low) (dB(A)) | 44,5 | 44,5 |
| Energy Consumption (W) | 230 | 230 |
| Start Power (Α) | 1,40 | 1,40 |
| Operating Range (°C) | 5-32 | 5-32 |
| Humidity Adjustment Range (%RH) | 35%-85% | 35%-85% |
| Dimensions (WxDxH) | 320x215x420 | 320x215x420 |
| Weight (Kg) | 11 | 11 |
| Voltage/Hz/Ph | 220-240V, 50Hz, 1Ph | 220-240V, 50Hz, 1Ph |
Other Products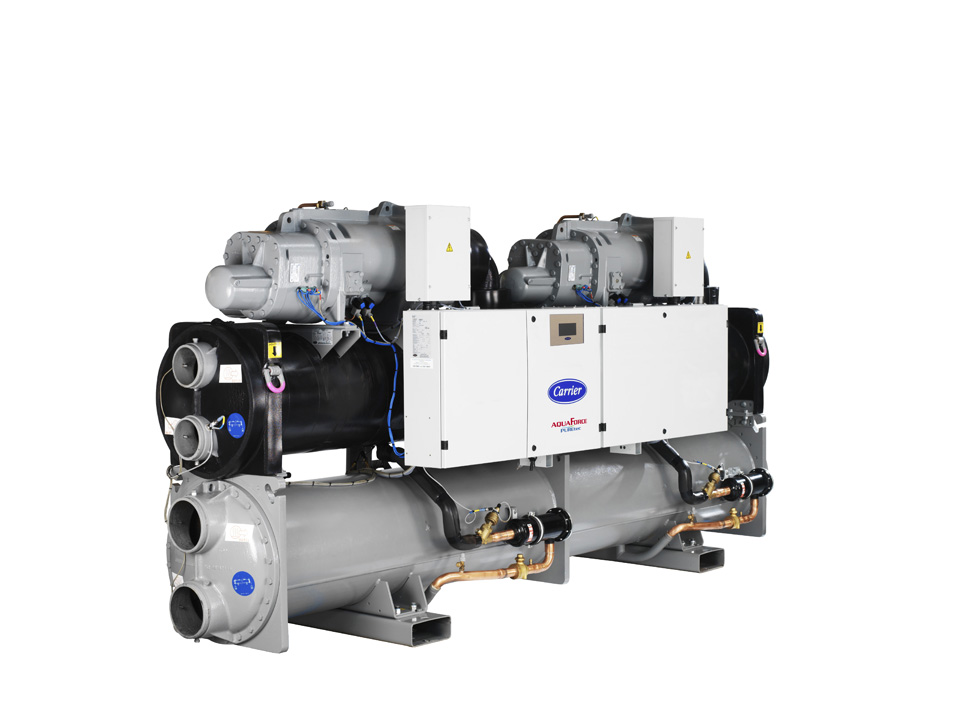 30RB/30RBP 170R-950R: Nominal cooling capacity 170-940 kW
30RQ/30RQP 165R-1040R: Heating capacity 170-940 kW & Cooling capacity 160-1040 kW
VIEW PRODUCT