SUPERIA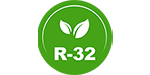 Carrier's new SUPERIA air conditioning unit with 3D DC Inverter technology offers excellent performance with unique energy savings. It has special features such as Active Clean cleaning system, Wind Avoid Me air current avoidance and triple action air cleaning system, which make it unique in its class.
3D Airflow

✔
3 Operating Power Options 50% - 75% - 100%

✔
Ionizer

✔
Golden Fin

✔
Ionizer
It creates a healthy climate of well-being as it invigorates the air with negatively charged ions.
3 operating power options
Three (3) operating power options (50% – 75% – 100%) – Gear operation
Golden Fin
Anti-corrosion coating on the exchanger of the outdoor and indoor units.
Silver Ion filter
This filter releases negative ions that renew the air and provide a clean, refreshing atmosphere.
Active Carbon filter
It removes unpleasant odors, such as that of cigarettes, 10 times more effectively.
Cold Catalyst filter
With deodorizing action, it helps to remove volatile compounds (VOC) and odors. This filter does not lose its effectiveness over time.
Wind Avoid Me function
With this function, the flow of conditioned air is directed against the users of the space. So you enjoy the desired temperature, without directly feeling the air currents.
Sleep mode
It saves energy and improves the environmental conditions during the night, for a comfortable sleep. During the night, a balance is made between the internal and external temperature to create the right conditions for a comfortable sleep.
Follow Me function
With this function you enjoy a better sense of temperature, as it is set and controlled where the device's control is located.
ECO mode
Maintains the desired temperature in the room with up to 60% lower power consumption. Thus, you only consume the energy that is actually required.
Turbo mode
It achieves the desired temperature quickly and efficiently.
Active Clean cleaning system
Removes dust, mold and grease that can cause odors when they adhere to the heat exchanger.
Dehumidification function
By activating this function, the device automatically selects the desired humidity levels, between 45% – 55%, always depending on the room temperature. It ensures the continuous maintenance of the appropriate percentage of humidity, offering excellent air quality with maximum energy savings.
Auto Restart
In the event of a power failure, the unit automatically restarts with the previous settings.
Leak Detection
In the event of a refrigerant leak, the unit detects the leak and stops operation while at the same time notifying the user with a fault code display on the display of the indoor unit.
Standby 1W
The unit consumes less than 1W when in stand-by mode.
Protection against electrical fluctuations
The unit can work seamlessly with voltage current from 168 to 264V. In this way it protects itself from possible voltage fluctuations within these limits.
Note
The manufacturer reserves the right to change product features, data and images without prior notice.
Other Products
Nominal Cooling capacity 21-138 kW and heating capacity 23-148 kW.
VIEW PRODUCT