Air purifiers with aromatherapy kit
Application area (m²)

Up to 14m²
Air Filters

HEPA, Ionizer, Pre-filter
Dimensions (WxDxH)

225x225x310
Sound pressure level (high/ med/low) (dB(A))

25/32/40
Aromatherapy kit
Carrier Novel Air air purifier features special holders and sponges for placing essential oils, which diffuse into the space during its operation.
READ MORE
Carrier warranty
Carrier invented modern air-conditioning in 1902. Since then we are continuously innovating our products to provide you excellent efficiency and energy savings.
Filter replacement alert
A special indication on the device's control panel notifies you when it is time to replace the filter.
HEPA H13 filter
The powerful H13 class High-Efficiency Particulate Air filter traps more than 99.95% of airborne particles, such as germs and allergens, ensuring a high quality atmosphere in your indoor space.
Air quality light indicator
The device recognizes air quality and its light indicator changes color, depending on the level of air purity: Excellent (Blue), Good (Green), Moderate (Purple), Poor (Red).
Operation timer
Set the device to operate for 1, 2, 4 or 8 hours, for the best planning of the air purification of your space.
Ionizer
Releases negative ions to the air, simulating the relaxing effects of forests and waterfalls.
READ MORE
Pre-Filter
The pre-filter withholds the largest dust particles suspending in the air, removing them from the air flow before they enter the air-conditioning unit. It covers the air intake and thus helps keeping the unit and the coil clean from dirt and debris, providing better air quality. The pre-filter can be removed and cleaned with soap-water without losing its effectiveness.
Note
The manufacturer reserves the right to change the characteristics of the products, the elements and the images, without prior notice.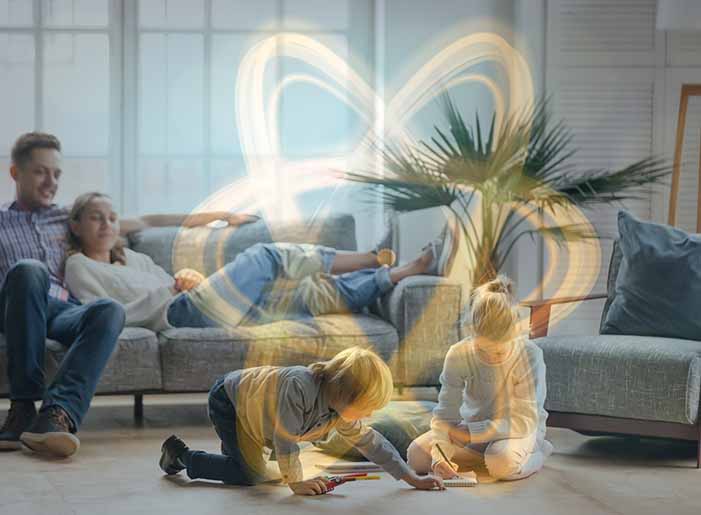 Ionizer
Creates a healthy climate as it rejuvenates the air with negatively charged ions. Removes pollen and dust while neutralizing bacteria and fights unpleasant odors such as cigarette smoke, for a cleaner and healthier indoor environment.
Aromatherapy kit
Essential oils are used in aromatherapy, a well-known holistic practice which is exploiting breathing and sense of smell.
Some of the benefits of aromatherapy in adults and children are better pain management, better sleep, stress management and immune system enhancement.
Inside the base of the device, there are receptacles and suitable sponges on which you can place drops of the essential oils of your choice. During the operation of the device, the essential oils are diffused in your space, thus enjoying fresh air and all the benefits of aromatherapy at the same time.
| | |
| --- | --- |
| | CDP-50Q7-1 |
| Dimensions (WxDxH) | 225x225x310 |
| Sound pressure level (high/ med/low) (dB(A)) | 25/32/40 |
| Motor type | AC |
| Fan speed | 1-2-3-4 |
| Filtering stages | 2 |
| Voltage/Hz/Ph | 220V / 50 -60Hz |
| Control and Command Type | Electronic |
| Country of origin | Korea |
Other Products