OptiClean TM
Meet the OptiClean™ Air Scrubber
MORE THAN ONE PRODUCT
For Your Business!
Right now, the world is more focused than ever on ways to reduce airborne contaminants, including particles containing viruses. With more than a century of expertise in indoor environments, we are committed to being part of the solution. With the OptiCleanTM Air Scrubber, everyone at your facilities will know you care about the air they breathe.
INSTALATION
The OptiClean™ Air Scrubber can be quickly installed into any sized room to help improve the indoor air quality.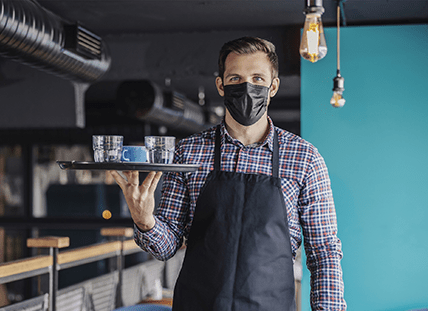 Food & Drink
Stores
Healthcare
Fitness
Offices
Schools
BENEFITS
Easily Increase Filtration in Any Room
The OptiCleanTM Dual-Mode Air Scrubber & Negative Air Machine has been named as one of TIME's 100 Best Inventions of 2020 and recognized in their Medical Care category as one of the 100 ground-breaking inventions that are making the world better and smarter. It also earned a 2020 Vision Award in the HVAC category from FacilitiesNet. Developed through rapid innovation in early 2020 to help support infectious isolation rooms in hospitals OptiCleanTM can also be used as an air scrubber to improve the indoor air quality within small businesses, helping to provide healthier air for your employees and customers.
Portable
Designed to easily be moved in any room with no need for installation. Just plug & play in any outlet.
Great versality
Can be used in 2 different operating modes including negative air pressure and recirculation.
Supplements Your Existing System
No need to replace or modify your installed HVAC equipment.
100% configurable
Different filtration HEPA stages with possibility to include Activated Charcoal filtration or Ultraviolet lamps.
Quite
With low sound levels, this unit is ideal for use in spaces with permanent human occupation.
High energy efficiency
Designed to optimize energy performance and thus reduces power consumption.
How It works!
The Carrier OptiClean™ air scrubber is a portable filtration system that stands alone in the room and requires no attached ducting. It works in three simple steps:
Step 1
The unit pulls air in from the surrounding area.
Step 2
The air passes through a series of filters to remove many contaminants.
Step 3
The cleaner, fresher filtered air is then recirculated back into the room.
Choose the Right Product and Configuration for Your Space
Carrier OptiClean™ is offered in two models:
FN1SXF (one size) & 38UV (three sizes) with alternative configurations
Configuration 1
Configuration 2
Configuration 3

Configuration 4
Configuration 5
Configuration 6
HEPA FILTRES
Filters that have high filtration efficiency and are tested under Standard EN-1822 with MPPS (particle size more difficult to filter or particle size with the least total filtration efficiency, considering the phenomena of inertial impaction, interception, and diffusion) of 0.15 0.25 microns.
Viruses are classified as PM1 particles (size <1 microns, typically between 0.07 microns and 0.15 microns).
They are normally transmitted through integration into two types of droplets or bioaerosols of human origin (sneezing, coughing, speech, breathing, etc.):
"droplet" (droplets>5microns) and
"droplet nuclei" (<5microns).
The smaller the size, the longer they stay in the atmosphere.
HEPA filters actively participate in the bioaerosol retention strategy, mitigating the droplet transmission mechanism. Large filtrating area cell filters (depth 296 mm) have a much higher particle retention capacity than low-depth filters, significantly reducing their maintenance requirements and improving their amortization.
H13 Hepa filters efficiency 99,95%
H14 Hepa filters efficiency 99,995%.
Activated charcoal filtration
As an air purifying complement, gas filters with chemical absorbency can eliminate odors by adsorbing gases such as hydrogen sulphide, dimethyl sulphide, mercaptans, nitrogen oxides, formaldehydes, VOCs, formol, ethylene, chlorine, ammonia, mercury, etc.
Ultraviolet lamps
UV-C lamps help clean the air, reducing the concentration pathogenic pollutants. UV-C light inactivates and inhibits the replication of the nucleic acids (DNA and RNA) in micro-organisms (viruses, bacteria, etc.). Absorption of very high energy over a wavelength of 253 nm results in irreversible damage to the structure of nucleic acids and proteins at a molecular level (Ashrae Fundamentals, Ch. 62, Ultraviolet and surface treatment).
Do you wish to learn more?
Don't hesitate to contact our experts teams for any question you might have.